Some words about my relationship to and with code.
🛠️ 💻 ⌨️
Software engineering is a profession, but I also like to think of it as a craft and art. I like the art of system design, of building, and of programming.
I respect complexity, I love to simplify. Taming complexity is key. Simplification is key.
Most of my passion for software engineering stems from my fascination for the magic behind the scenes: fault tolerance, network technology, scalable and distributed systems. I really like reading The Architecture of Open Source Applications and The Linux Programming Interface by Michael Kerrisk. Around 2010, I discovered How Complex Systems Fail by Richard Cook and it opened my eyes.
Getting feedback, seeing value — I love building products. I really like to get software out there, I do get excitement from those really challenging debugging sessions when a lot is at stake.
It feels like I have built quite a lot of software of various kinds in my life so far. Here, I would like to highlight two products that I have poured a particularly large amount of passion and energy into, that have coined me, and that influence how I act and think about software engineering and software engineering organizations today:
As a researcher by heart and education, I love data and have things to say and thoughts about data presentation, about numerical data analysis, statistics, and machine learning.
At the heart of the software engineering day-to-day, I have learned to focus on defining what desired behavior is, on creating clear concepts. I care about specification and interfaces most. I love to refine the problem statement before entering solution space. In any engineering org, I might be the strongest advocate for the importance of deliberate error handling, and for providing great error messages. To save three types of people a bunch of time and energy: youerself, your fellow engineers, and your users.
Code readability, quality, testing, maintainability: sometimes I feel like I have too strong opinions about these. But it might be a good thing? I know there are no simple truths, but there's quite a wide spectrum between "probably good" and "hurtfully bad", and we always have a choice where in that spectrum we want to be.
Security is special focus of mine: I took part in hacking competitions in my childish programming days. Later, at Mesosphere, I led the security team. We dealt with the canonical bits of enterprise security (compliance/certification, X.509 hierarchy, single sign-on, LDAP, etc), but also did innovative work in the field of multi-tenancy and fine-grained authorization in distributed systems (patent).
I got my fair share of experience in trying to build really robust software. For Enterprise DC/OS, my team built the identity and access management service (IAM). Downtime was intolerable. We delivered it as a highly available service distributed across five machines, backed by a distributed (consistent) relational database (well, that was a ride). It had to work reliably in air-gapped environments.
Two more things: I think that it's the longer-term maintenance of software with a larger user base that teaches many important lessons, and we should always want to learn and like to discover new things! Paradigms change, and progress grows expoentially.
Resources:
Open source software projects that I started and (maybe, more or less) maintain:
A selection of articles published through my blog
More to be found in the technology category of this blog.
A web service that I once created (not maintained anymore):
Some open source software projects that I have contributed to:
and others.
Stale/idle software projects that I once put into the world:
🪦 The graveyard? One day… :-)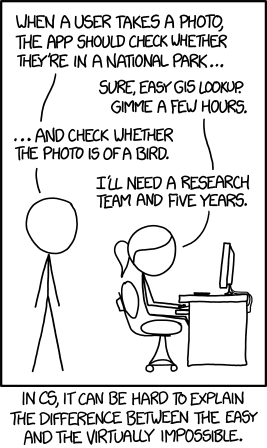 Update: I put this XKCD here in early 2010, but in 2023 it has new relevance! :)