This blog post is about a crucial performance drop in recent Super Talent UltraDrive GX 128 GB drives with an "XXXX" in the serial number. Up to now, all official tests and benchmarks show a much better performance than the drive you would order now, so read this before buying!
I just decided to get an SSD (Solid State Drive) for my new notebook; both from the money I earned during this year's Google Summer of Code. After reading many articles, benchmarks and comments, I decided to order an 128 GB Super Talent UltraDrive GX (FTM28GX25H). In all recent official tests (e.g. at AnandTech, Tom's Hardware) it showed a very good performance. It was e.g. totally comparable to OCZ's Agility and Patriot's Torqx but the price of the UltraDrive is 40 € better! Hence, this drive was a recommendation in many hardware forums.
Unfortunately, as it turned out in different forums (among others, in the Super Talent forum), Super Talent very recently changed the hardware, without changing the advertisement (promised 260 MB/s READ and 195 MB/s WRITE). People say that they selected cheaper flash chips (from 16 chips à 8GB (64Gbit) to 32 chips à 4GB (32Gbit)). Whatever they did exactly, the performance dropped critically to 225 MB/s READ and 150 MB/s WRITE. It seems that all drives with an "XXXX" in their serial number are affected. Too bad that my drive is an XXXX-one, too. These are the benchmarks for my new drive: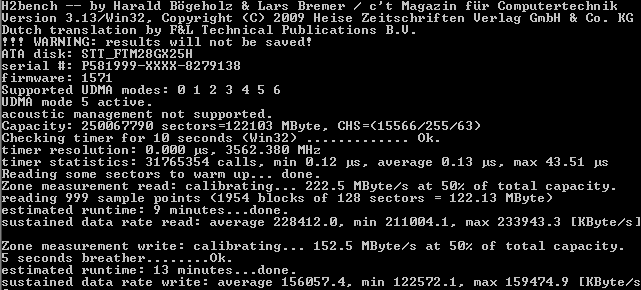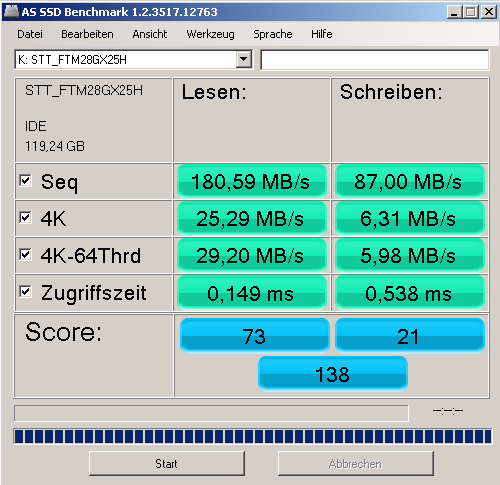 The values are much lower than the values measured in the official benchmarks, where the drive really looked good.
Regarding Super Talent's support forum, many people have this problem. Everybody is hoping that Super Talent is able to solve the problem by improving the firmware, but it seems a bit unrealistic.
I will wait some days and see what's happening, before I'll send back my new drive.
Update:
Due to some insider information in the Hardwareluxx Forum (German), next week there may be some good news for all owners of an XXXX drive. Sounds like we will get a good replacement for the slow drive or something like this. Let's see, I'm curious!
Update2:
People living in central Europe can send their XXXX drives to COS Memory AG, the local distributor in Germany. They will replace the drives. Corresponding website (German): http://www.cos-memory.de/node/225
I've already sent my drive to them.